Centennial of Southern California
Ecumenical Council


Rev. Gene Boutilier

September 27, 2012, Pasadena, California


We are celebrating the 100-year anniversary of the founding of our state council of churches in
California. We give thanks to the holy One, the source of all Christian unity, for the accom-plishments of this movement. We honor the collection of willing ecumenical activists who have accomplished a world of good together in God's name. We will enjoy a few minutes of remembrance and nostalgia, a
eulogy. (more)

Sharing the rediscovery of wonder
The Prodigal Son
Copyright 2011 - Eco-Justice Ministries
In a wide-ranging conversation with a friend this week, I backed myself into the sort of comment that I hate to make. I was forced to admit -- to myself and to Jim -- a painful reality that I usually don't name.

Read More



---
The Story of Change

http://www.storyofstuff.org/movies-all/story-of-change/
The Story of Stuff
http://storyofstuff.org/index.php
---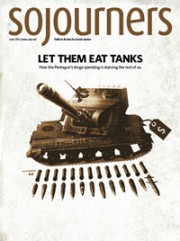 Let Them Eat Tanks
Ben & Jerry's co-founder Ben Cohen talks with Jim Wallis about ice cream, Oreos -- and how the bloated military budget is destroying our economy and making us all less secure.
Read More
An interview by Jim Wallis
The Southern California Ecumenical Council (SCEC) is a regional body representing churches, denominations, related ministries and other ecclesiastical communities who cooperate to promote responsible and creative expressions of our Christian unity and witness to the Gospel of Jesus Christ.

Through ecumenical networks and inter-religious partnerships SCEC works to foster religious understanding, to advocate for social justice and to advance the well-being of all people. The Week of Prayer Service and the Faith and Order Commission part of the current work of the Council.
Ending Gun Violence: A Resolution and Call to Action by the
National Council of Churches of Christ, U.S.A.
"Live in peace; and the God of love and peace shall be with you." 2 Corinthians 13:11
Adopted by the Governing Board May 17. 2010
This Resolution and Call to Action is a collaboration of the member communions of the National Council of Churches USA ("NCC"), with local and regional ecumenical bodies of the United States. It addresses the grievous problem of gun violence in the United States, and is a part of our continuing response to the crisis, faithful to our biblical perspective
---

See our Appeal Letter (dated December 2013)


---
In January 2012 we began celebrating a century in California helping to knit Christian communities together. We can be seen as a tapestry which reflects the diversity of our ever burgeoning region while lifting up the unity of the Body of Christ. We pray and hope for the Reign of God on earth when creation will be restored to peace and harmony.
IS THERE A WORD FROM THE ECUMENICAL CHURCH?
One hundred years of ecumenical witness! On the one hand, it seems nearly impossible that Christians have been working together, pursuing unity together, for a century in this part of the country. On the other hand, it seems as if John Huber himself has been at this for about a hundred years! (more)
WHAT WOULD IT MEAN TO TAKE "THE NEXT STEP" IN ECUMENICAL AND INTERFAITH RELATIONS?
It often seems, here in the second decade of the 21st century, that the ecumenical and interfaith movements are stuck in the status quo. During the last half of the 20th century, relations between many churches in this country clearly improved. For much of that time, ecumenism was fresh and exciting–the "great new fact of our era," as William Temple called it–and there was a feeling that the ecumenical movement was truly moving. At the same time, dialogue and cooperation between various religious communities, especially Christians and Jews, took dramatic steps forward. (more)
(A couple of chapters from my new book are next. It is tentatively entitled, "Can a Renewal Movement Be Renewed?: Questions for the Future of Ecumenism.")
WHAT CAN THE CHURCHES SAY TOGETHER ABOUT THE CHURCH?
The central issue for the ecumenical movement is the nature and purpose of the church. Discussions of what is required for Christian unity, and what unity might look like, are discussions about the essence of the church. Dialogues focused on sacraments or ministry or ways of making decisions are dealing with practices and structures that help define the church. Acts of shared witness and service undertaken through councils of churches reflect implicit convictions about how the church relates to the world. A roll call of ecumenical participants– Orthodox, Roman Catholic, Anglican, Historic Protestant, Anabaptist, Pentecostal–is shorthand for divergent conceptions of what the church is and what it is for. (more)
---
Doing Mission and Evangelism Ecumenically
We Christians believe that we are called to fulfill God's mission to the whole inhabited world (
oikoumene
). It is a mission that is holistic—feeding, clothing, housing, healing, comforting, forgiving, reconciling—addressing the various needs of people of every time and place. Part of this mission includes evangelism (or
evangelization). The concern of evangelism is to bring persons to a new life in Jesus Christ. Authentic life in Christ compels us to call people into communion with God, with one another, and with creation. We followers of Christ are to proclaim by word and example the Gospel—the Good News—of Christ and of God's reign, bearing witness to his saving death and resurrection for all.
Read more
---
We of the Southern California Ecumenical Council wish to respond to the recent passage of our neighboring state law, Arizona State Law SB1070, signed by Gov. Jan Brewer on April 24, 2010.

Read More
Immigration statements and policies adopted
by various religious bodies and faith-based coalitions

Message from Church World Service